MkvBatcher Pro

MkvBatcher Pro can easily manage up to 16 conversions simultaneously.

Four engines on two computers with two engines each, convert about 400 Dvd-ISOs / day (6 engines = 600).

So with MkvBatcher Pro only the number of computers you have, determines how many engines you can productively use.

The MkvBatcher Pro examples show some possible configurations using MkvBatcher Pro with between three and fifteen engines.

The Pro examples start, where the MkvBatcher Free examples stop.

MkvBatcher Pro is free while in beta!
Screenshot: MkvBatcher Pro running 16 parallel conversions: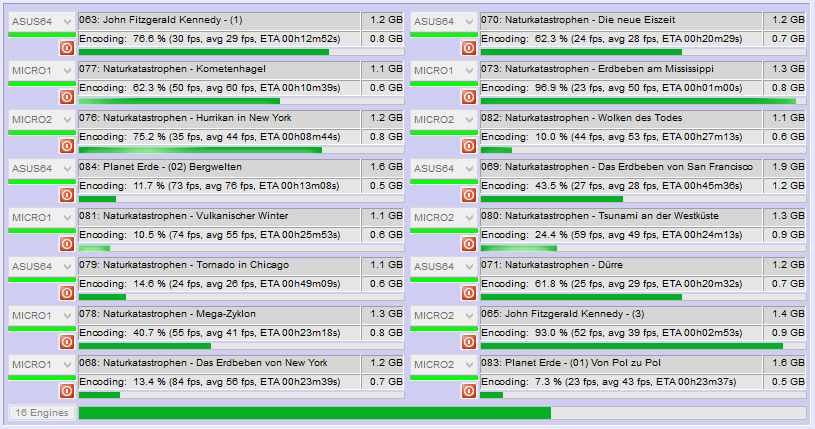 Full screenshots of the entire setup at the bottom of the page
---
Configuration examples for MkvBatcher Pro
Basic Performance Reference: 160 Dvd-ISOs/day = 100%

One computer with one conversion engine

A conversion batcher normally only does one conversion at a time (=100%). Two parallel conversions give a performance boost of about 25% because the full CPU power is used.

Running the second engine on a second computer doubles the output performance.

My test conversion of 100 ISOs on a setup like example 2 took 4 hours. (= 600/day)

Basic Batcher
---
Example 1 360 Dvd-ISOs / day

3 parallel Blu ray rips
Pro
•

MkvBatcher Pro with 3 Engines on 2 Computers

Modern Laptop + Desktop

Some of the latest generation mobile devices are amazingly powerful and quite able to do serious work. Even some high end pads and convertibles with i5 or i7 play today in that league. However, I whould still only assign one engine to it to leave it with some headroom.

Mobile/Work Hardware Example
Master
Slave

Setup details here: "advanced setup"

Wired LAN
MkvBatcher
Slave 1
Master
Slave over LAN
Example 2 600 Dvd-ISOs / day

6 parallel Blu ray rips
Pro
•

MkvBatcher Pro with 6 Engines on 3 Computers

Slaves: Passive blocks with i7 and SSD = quiet + powerful

Multimedia Network Hardware Example
Master
Slave 1
Slave 2
Home Office
Living Room
Bed Room

MkvBatcher
Slave 1
Slave 2
Master
Slaves over LAN ...
Setup details here: "advanced setup"
Example 3 1000 Dvd-ISOs / day 10 parallel Blu ray rips

Pro
•
MkvBatcher Pro with 15 Engines on 5 Computers

This example does certainly show a configuration most people don´t have, need or even want.

But if you´d like to create a monster, this one is for you ...

MkvBatcher

Master

"remote control"

Slave 1
Slave 2
Slave 3
Slave 4
Slave 5
Wireless
Gigabit LAN
Full Multi Media Home:
Home Office
Living Room
Bed Room
Guest Room
Child
---
MkvBatcher_Slave no. 1 (gui in mini mode):
(Toggle button with the eye icon to switch gui modes)
MkvBatcher_Slave no. 2 (gui in full mode):