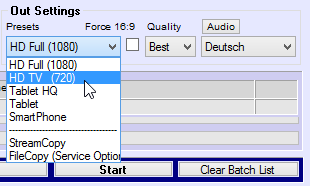 Before you start, select a preset for this session:

Use HD Full or HD TV for home intertainment gear.

Use Tablet, Tablet HQ or SmartPhone for mobile.

The presets adjust the max. out resolution, the out file extension, the conversion quality and the output mode to fit the selected target requirements. The mobile presets apply "force 16:9" to optimize the output for a small display.

BDs and DVDs can be processed in the same batch.